Lost In Space
30. March –
10. April 2016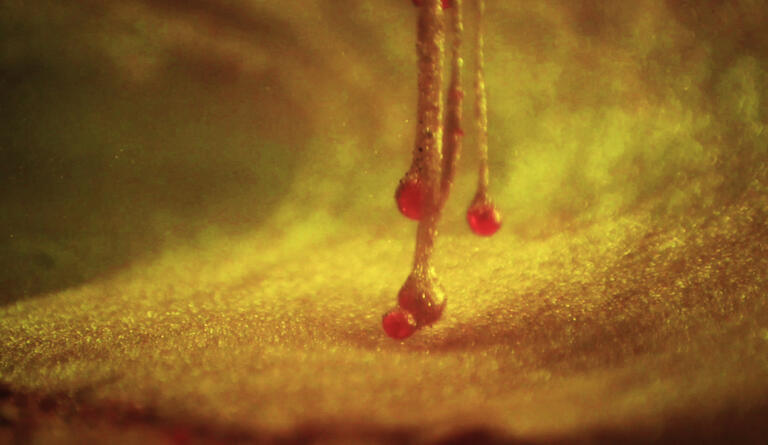 Anders Solberg, Iosis, stillphoto.
Trøndelag Centre for Contemporary Art presents a video program consisting of four films, from the 1980's and the 2000's, all of which engage with notions of "Space" literally or metaphorically.
The American artist Joan Jonas video work, Double Lunar Dogs (1984), is considered a pioneering work in early video art and is made at a time when the "space race" between the US and USSR was influential. Inspired by the science fiction story Universe by Robert Heinlein about post-apocalyptic survival aboard a drifting spaceship whose timeless travelers have forgotten the purpose of their mission.
We also show a film by British film artist George Snow. His Shuttle Disaster No 1 (1986) is a classic example of "Scratch Video" from the eighties, where documentary material from television is reworked and combined with digital graphics and electronic music. The film was made in 1986 shortly after the space shuttle Challenger exploded during takeoff.
Inger Lise Hansen is a Norwegian filmmaker and we show her film Proximity from 2006 that explores our orientation and perception. In her film, the landscape is shot with super 16mm and appears to us as an unknown mythical place. The fourth film we present is Iosis (2015) a video by Anders Solberg, who currently is a student at the Trondheim Academy of Fine Art in Trondheim.
The works by Inger Lise Hansen and Anders Solberg interrogate our perceptions of space as manifest through cinematic images. Both take a phenomenological approach, using the camera to record a process whose result is a visual landscape that unbalances our perception and proposes an imaginary space or landscape that may be terrestrial or otherwise.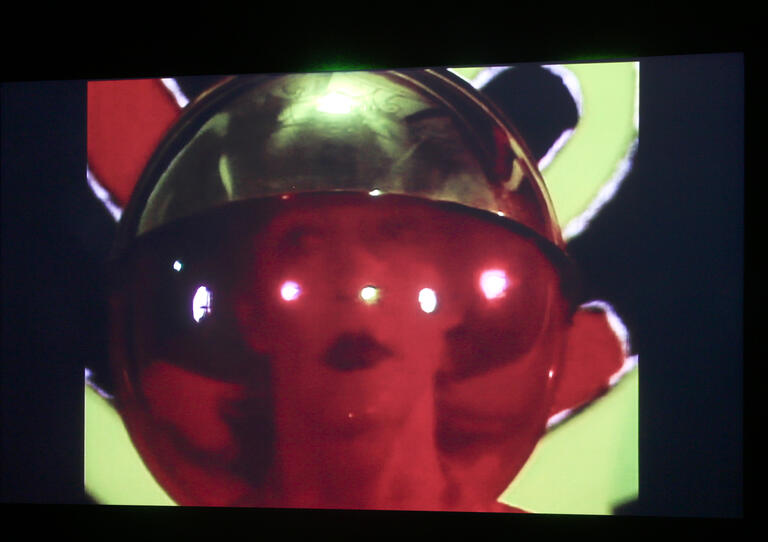 Photo: Amalie Marie Selvik / Trøndelag Centre for Contemporary Art
Double Lunar Dogs
Joan Jonas
1984, color, sound, 24:04 min.
Inspired by the science fiction story Universe by Robert Heinlein, Double Lunar Dogs is an Orwellian vision of post-apocalyptic survival aboard a drifting spaceship whose timeless travelers have forgotten the purpose of their mission. To recapture memory and create a continuum between their unknown origin and uncertain destination, the characters in this disjunctive, philosophical narrative play metaphorical games with words and archetypal objects. To depict this fantastic voyage, originally produced as a performance, Jonas uses sophisticated imaging techniques and special effects, condensing time and space in a stylized, abstracted video theater. This symbolic narrative conveys a profound sense of dislocation and isolation.
Joan Jonas (b. 1936) is an influential artist, and in the early 1970s was among the first to combine bodily-oriented performance art with experimental video. She quickly gained a position as a key player in video art. Many of her early work focuses on body, gender, and identity, while her recent work is more characterized by universal stories.

Author/Director: Joan Jonas. Director of Photography: Michael Oblowitz. Additional Camera: Skip Sweeney, Steina Vasulka, David Aubrey. Music: Richard Teitelbaum, The Residents, Yello, Anton Fig, Barney Bailey, Simone Forti. With: Spalding Gray, Joan Jonas, Jill Kroesen, John Malloy, David Warrilow. Editors: David Aubrey, Marton Brown. Produced by Joan Jonas in association with the TV Lab at WNET/Thirteen, the Contemporary Art Television (CAT) Fund and the WGBH New Television Workshop.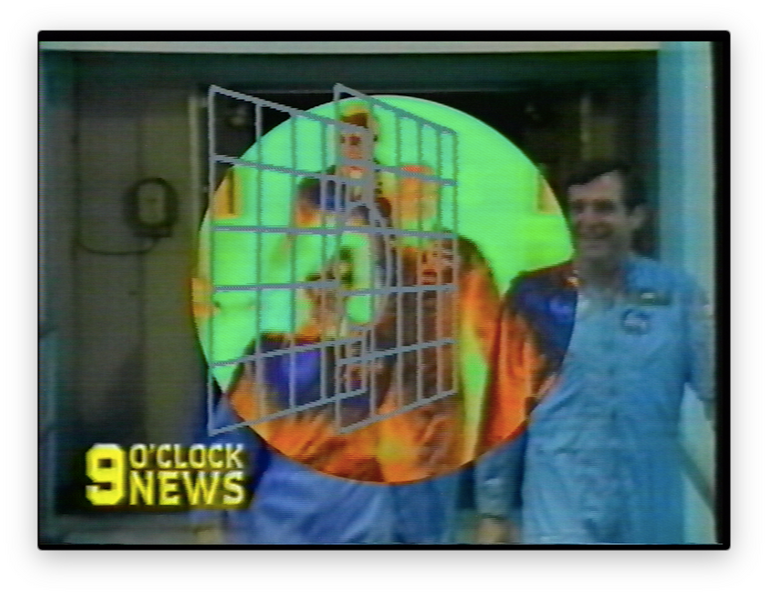 Stillphoto.
Shuttle Disaster No. 1
George Snow
1986, Colour PAL video, 5:52 min.
SCRATCH THAT ITCH - Having spent 3 years isolated and programming computers this fellow, Brendan Beal, walked into my studio with a song about the then recent shuttle disaster. Now- shortly before that the legendary George Barber, the king of Scratch Video, paid me a visit. I was overawed by the video work he showed me. Next day I was off to the Soviet Embassy where I met Mr. Plushenko, the Soviet Cultural attaché. He gave me reels and reels of Sovexport footage of Russian achievements in Space. I had them transcribed to Umatic and made this video. Shortly after that the British Film Institute, Ben Gibson and John Wyver noticed my work; followed by the record companies. Then I began to make money and Art fame. This is the first video I made with the legendary musician Brendan Beal.
Thanks must go to Mr. Pleshenko of Sovexport Film and to the staff of the embassy of the Union of Soviet Socialists Republics in London.
A tip of the hat to Yuri Gagarin, a bone for Leika and rousing cheer to the genius of Sergey Korolyov (Серге́й Па́влович Королёв). Thank you Comrades.
- George Snow
Made shortly after the explosion of the shuttle Challenger in 1986, George Snow's video, Shuttle Disaster No. 1, offers a vision of the event that is radically different from that of the media at the time. Snow's version being in praise of Soviet achievements in space and damnation on the Americans.
George Snow (b. 1948), was expelled from Hornsey College of Art in 1970, worked as a designer and illustrator for the underground press in the 1970s, as well as a press photographer in Northern Ireland for the left-wing press. In the 1980s, he began computer programming and experimenting with video, making music videos commissioned by The Art of Noise, London Beat, and The Stranglers. His work has been screened at the World Wide Video Festival in The Hague, Sao Paolo International Video Festival, the ICA, London; Wroclaw, Poland and at Videoformes, Montbeliard, France.

Video by George Snow. Music by Brendan Beal.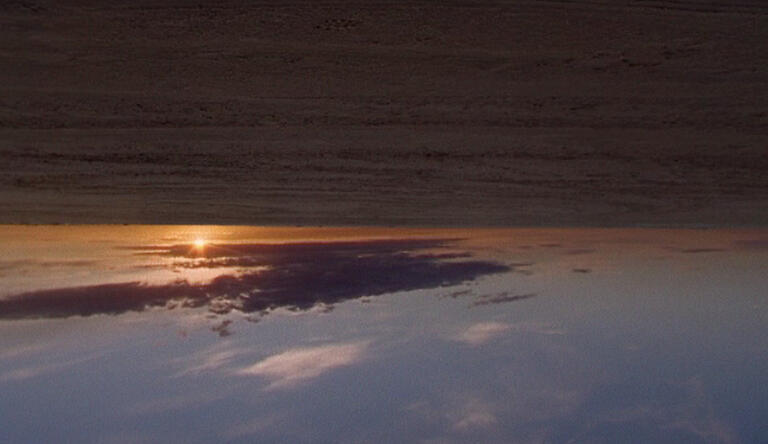 Stillphoto.
Proximity
Inger Lise Hansen
2006, colour, sound S-16mm-35mm, 00:04 min.
Proximity, by filmmaker Inger Lise Hansen, is a time-lapse animation film about the disorientating and unsettling cinematic space that occurs on the screen from an upside-down view. The camera moves through four shots recorded in different weather conditions, on a deserted beach at Skagen, Denmark's northernmost point, inverting the ground and the sky. The result is a mysterious and disorienting space in accelerated time, where the originally solid ground at the top of the frame appears to be sliding past like a lava-stream.
Inger Lise Hansen (b. 1963 Trondheim) is a visual artist with a background in experimental film and animation and is regarded as one of Norway's most exciting and successful film and video artists. Educated at San Francisco Art Institute, Central Saint Martin's College of Art and Design, and the University of East London. The artist has mostly worked overseas in London, Prague, and San Francisco. Her experimental film works appear in numerous international film festivals and art institutions.

Director: Inger Lise Hansen. Camera collaborators: Hilde Malme and Greg Pope. Sound design: Sturla Einarson. Production: Inger Lise Hansen, co-production Fjordholm filmproduksjon. Funding: Finetake for Animate! by Arts Council England and Channel 4 TV.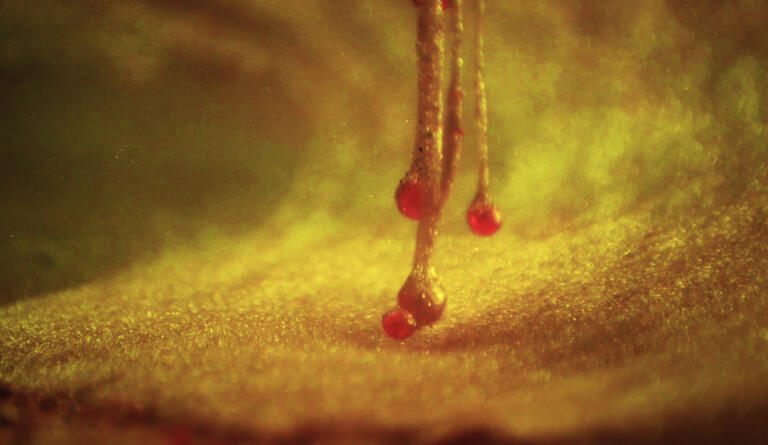 Stillphoto.
IOSIS
Anders Solberg
2015, HD video, 16:42 min.
Anders Solberg's digital video work, abstract and immersive, can be viewed as fluid or liquid paintings experienced through time. Depicting the metaphorical transmutation of lead into gold, the ascension from earthly, crude matter, into a higher, divine state. In the 1890s, inspired by Giovanni Schiaparelli's discovery of "canals" on Mars, the American astronomer Percival Lowell decided to devote his fortune and energy to the study of Mars. He made intricate drawings of the surface of Mars and its markings, as he perceived them from his telescope in Flagstaff, Arizona. Lowell made a detailed description of the planet's surface, of the "canals" and the "oases", as he named the dark spots at their intersections. He published his views in three books, which popularized the belief that these markings showed that Mars sustained intelligent life forms. Thinking that the Red Planet must have been covered by greenery. While this idea excited the public, the astronomical community met Lowell's observations with skepticism. The existence of the canals was in the 1960s definitively disproved by NASA's Mariner missions, regarding these markings as an optical illusion. Even though Lowell's observations were proven wrong, they have inspired some of the most highly regarded works in science fiction.
Anders Solberg (b. 1984, Trondheim) is educated as a photographer at Norsk Fotofagskole and currently a student at the Trondheim Academy of Fine Art, NTNU.
Video av Anders Solberg. Dimensions: 1920X1080. Codec: AAC, H.264. Color Profile: HD (1-1-1). Duration: 16:42. Audio Channels: 2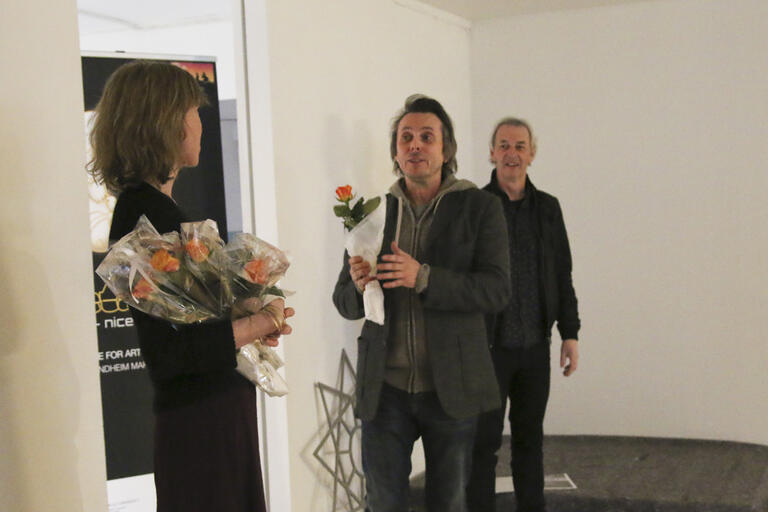 Photo: Amalie Marie Selvik / Trøndelag Centre for Contemporary Art
Photo: Amalie Marie Selvik / Trøndelag Centre for Contemporary Art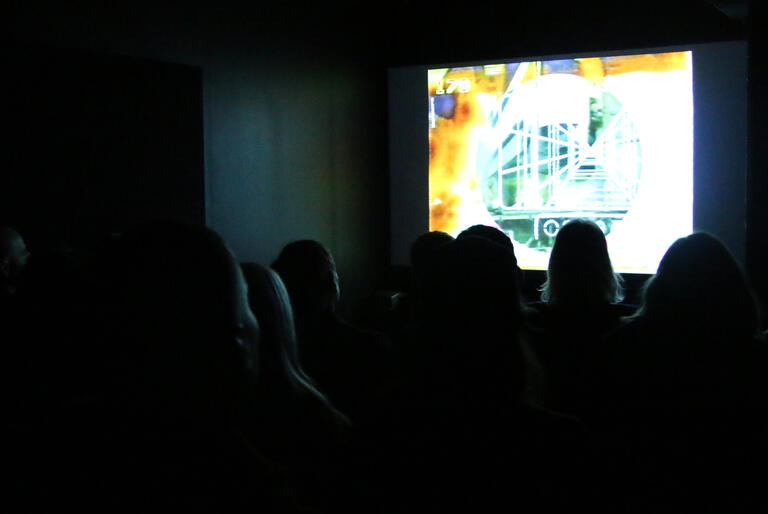 Photo: Amalie Marie Selvik / Trøndelag Centre for Contemporary Art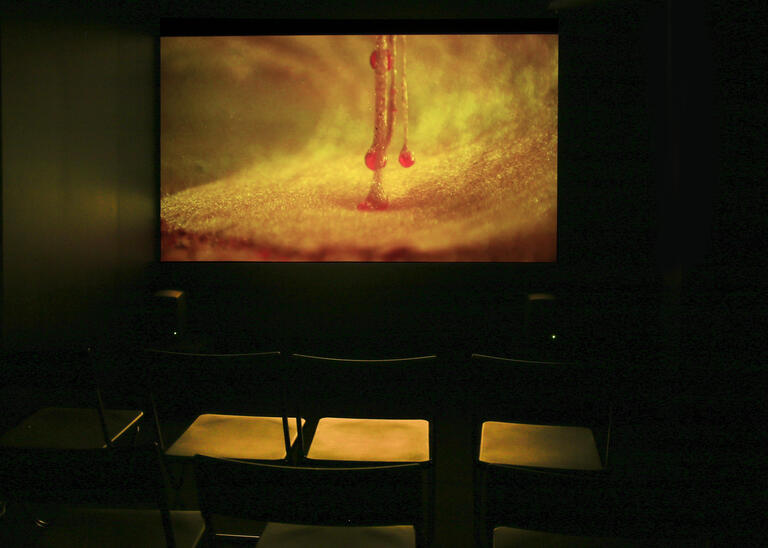 Photo: Amalie Marie Selvik / Trøndelag Centre for Contemporary Art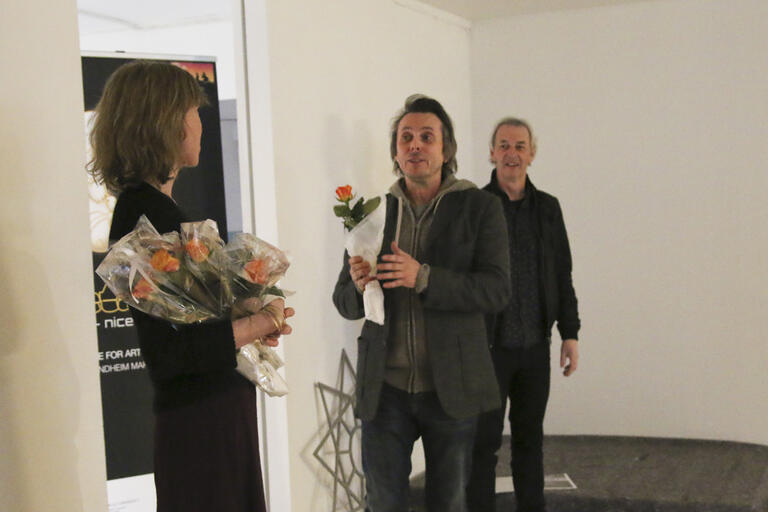 Photo: Amalie Marie Selvik / Trøndelag Centre for Contemporary Art
Photo: Amalie Marie Selvik / Trøndelag Centre for Contemporary Art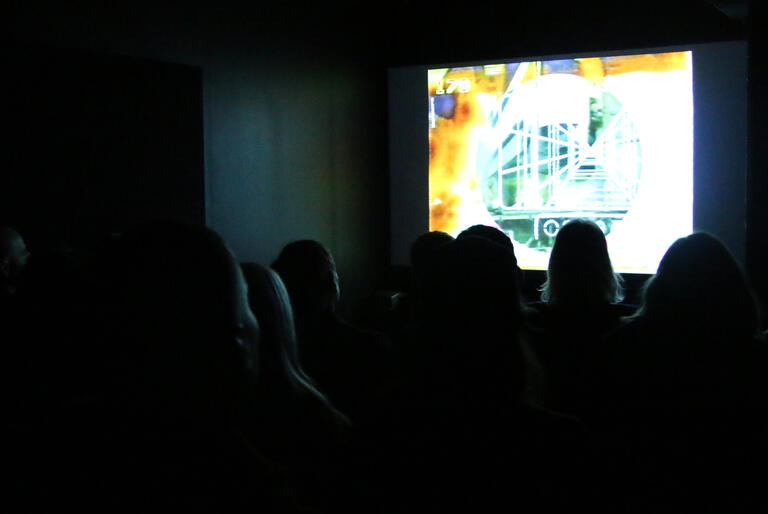 Photo: Amalie Marie Selvik / Trøndelag Centre for Contemporary Art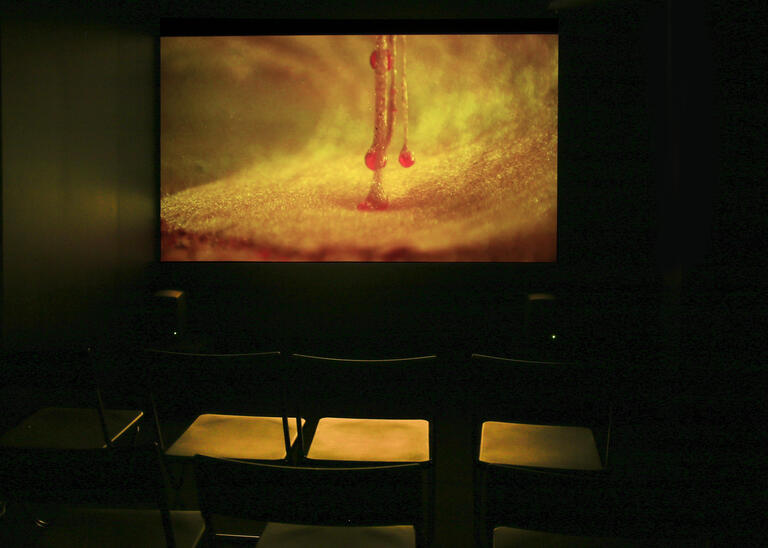 Photo: Amalie Marie Selvik / Trøndelag Centre for Contemporary Art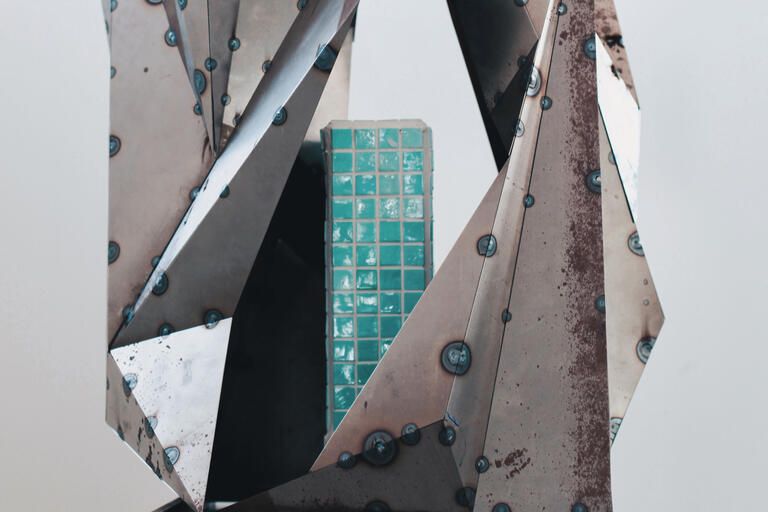 05.10.2023 –

05.11.2023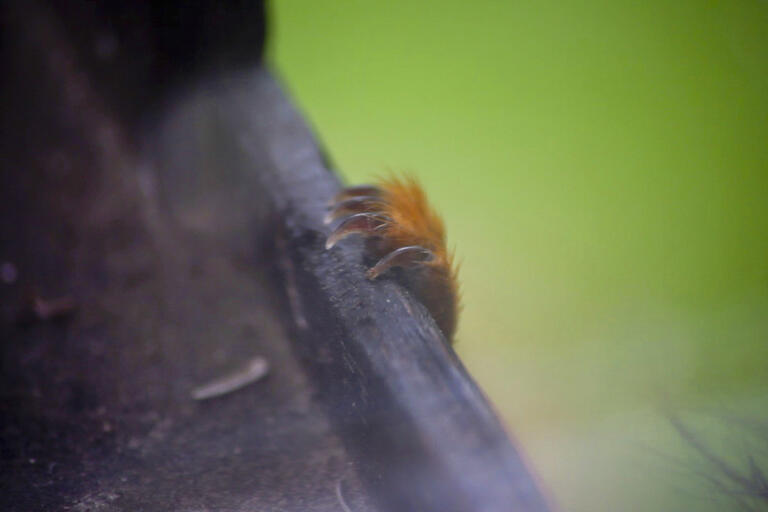 16.11.2023 –

17.12.2023
Calendar
Exhibitions

Events

Tours

All