Ecophilia konferanse 20. -
21. mai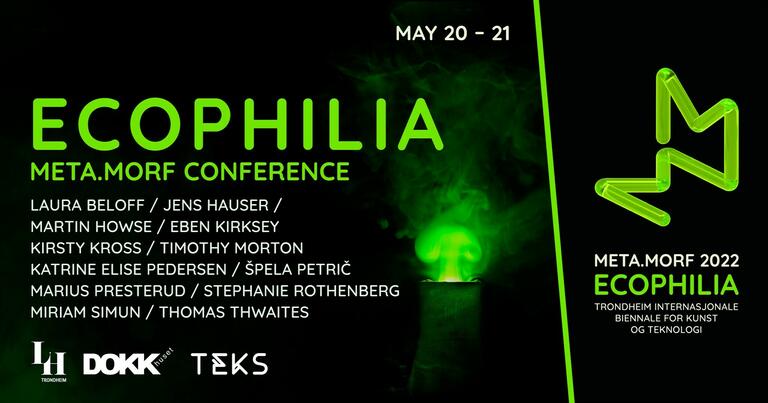 Årets Meta.Morf konferanse handler om kjærlighet. Om vår kjærlighet til naturen. Men hva er egentlig natur? Bortsett fra noen oppdiktede økologiske drømmelandskap? I dag befinner vi oss i en antropocen tid – en ny geologisk epoke – preget av massiv menneskelig påvirkning på planeten vår Jorda.
Fredag 20. mai og lørdag 21. mai kl. 10:00–16:00 på Dokkhuset
Price: 100 kr. / 50 kr. Kjøp din billett / Get your ticket

Mer enn halvparten av oss bor i byer langt unna uberørt natur. De fleste av oss bygger vårt selvbilde, vår opplevelse og definisjon av naturen gjennom optikken i digitale teknologier. Når miljøet og livsstilen vår har endret seg i så stor grad, hva mener vi egentlig med natur som vi så desperat ønsker å knytte oss til?

Desperasjon er alltid interessant å undersøke, og våre konferansedeltakere gjør det ved å undersøke økofili fra flere perspektiver og ønsker og et bredt spekter kreative vinkler og disipliner.


CONFERANCE SPEAKER's:

Timothy Morton is Rita Shea Guffey Chair in English at Rice University. Morton has written books and essays on philosophy, ecology, literature, music, art, architecture, design and food. Including All Art Is Ecological (2021), Being Ecological (2018), Dark Ecology (2016), Hyperobjects: Philosophy and Ecology after the End of the World (2013) and Ecology without Nature (2007). Morton have collaborated with artists like Laurie Anderson, Björk, Jennifer Walshe, Hrafnhildur Arnadottir, Olafur Eliasson, Pharrell Williams and Justin Guariglia.

Eben Kirksey is an American anthropologist who writes about science and justice. He is best known for his pioneering work in multispecies ethnography—an approach to studying human interactions with animals, plants, fungi, and microbes. Kirksey has an insatiable curiosity about nature and culture. Investigating some of the most important stories of our time—related to biotechnology, the environment, and social justice

Jens Hauser is a Paris and Copenhagen based media studies scholar and art curator focusing on the interactions between art and technology, trans-genre and hybrid aesthetics. There has been little reflection upon greenness' migration across different knowledge cultures: Engineers uncritically brand 'green chemistry' or 'green biotechnology' as ecologically benign, while climate researchers point to the 'greening of the earth' itself as the alarming effect of anthropogenic CO2 emissions. 'Green growth' pretends to reconcile ecologically sustainable development with business models, and voluntarily alludes to 'natural' vegetation growth. Meanwhile, in Europe, the new green deal's taxonomy classifies fossil gas and nuclear energy as sustainable – may black be the new green?

Laura Beloff (Ph.D.) is an internationally acclaimed artist and researcher based in Finland. She functions in-between artistic production and academic research with a core in artistic methods. A 'stray' is someone that is not where it should be, often considered homeless or not having a right to a home in their current location. Barbara Creed has investigated the term 'stray' in reference to animals and with a focus on the relationship between human and animal (Creed, 2017).

Katrine Elise Pedersen'scuratorial practice has been oriented towards alternative realities, spiritualities, and knowledge systems as well as histories which seemingly have not been included in the main strains of official world narratives.

Martin Howse is occupied with an investigation of the links between the earth (geological and geophysical phenomena), software and the a/human psyche (psychogeophysics). He will talk about The wider Tiny Mining community consists of a diverse group of chemists, geologists, artists and alternative medicine practitioners, and is devoted to exploring the culture of self mining through sharing knowledge, advocacy, discussion, tutorials and collective sweatshops.

Miriam Simunworks where bodies (human and non) collide with rapidly evolving techno-ecosystems. Trained as a sociologist, Simun spends time in communities of experts from biomedical engineers to breastfeeding mothers, farm laborers and freedivers.

Špela Petrič is a new media artist with a background in the natural sciences. Her artistic practice combines biomedia and performativity to enact strange relations that reveal the underpinnings of our (bio)technological societies.

Presentations by:

Thomas Thwaites / Stephanie Rothenberg / Marius Presterud / Kirsty Kross